Cryer's Cross
by
Lisa McMann
Source: PulseIt!
My rating:
4 of 5 stars
Having just finished the book, its story fresh in my mind so I could review it, I find myself staring at the blank canvas of the text field. What to say about this novel?
Kendall Fletcher is a teenager growing up in the small town of Cryer's Cross. She has a best friend named Nico. Boyfriend, he'd say. She can't bring herself to call him her boyfriend, she doesn't like the commitment of the word. The reason is because Kendall has OCD. Counting her steps, racing thoughts, checking and rechecking locks, rearranging desk, making sure the markers in the one room high school are arranged the Roy G Biv way. This year would be a different one for Kendall, as a fellow student had disappeared May of that year. Tiffany Quinn. The town Sheriff lead a search party to no avail. Tiffany wasn't found.
Enter stage left as two transfer students move to the small town just before Tiffany disappeared. Jacian (Hah-see-AHN, not JAY-se-un!) and Marlena. Rumors start spreading that Jacian might have had something to do with her disappearance. He is afterall, not friendly to anyone. Marlena passes that off as teenage angst in responce to moving. So which is it?
Now, when suddenly Nico disappears after acting really strange, people start wondering if it was Nico that had to do with Tiffany's disappearance. But when Kendall starts getting messages on Nico's desk - which was coincidentally Tiffany's desk the previous year - she realizes something much more sinister might be going on.
I want to start off saying that this was overall a very good book. Most of the characters had personalities - even some of the smaller ones - which usually doesn't happen in a book. Lisa McMann does well in making her characters have voices. And when she writes romance, boy does she write it. Seriously, Jacian was hot!
However, the reason this book doesn't merit a 5 out of 5 are some small nitpicky things that add up for me. First, some of the dialog was just kind of awkward, almost rushed. It felt like filler conversations to push the page count of the book, not to further the story. Second, although Kendall's OCD was apparent sometimes, I wish it would have been made more apparent. There were times I'd get done reading a chapter and then Kendall would go back to school and do her "school routine" involving rearranging the desk, turning the waste basket just so, and arranging the markers, and I'd remember that she had OCD. There'd be a lot of Kendall thinking about how much her OCD consumes her, yet that wasn't made as apparent as I would have liked.
Don't let the previous paragraph or the semi-slow middle of the book throw you off from reading this book though, once you hit the final count down of the book, Lisa McMann pulls you in and doesn't let you up for air until she's done with you. She then leaves you in a speechless sort of haze, not quite knowing what to think yet while you still digest the end of the book you read in a hurried slurr, because you couldn't get enough. Once I took a step back from this book after reading it, I found it was a very enjoyable read with some minor bumps in the road. Another satisfying read from Lisa McMann.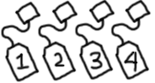 I give this book a solid 4 out of 5 stars.
View all my reviews