Waiting on Wednesday is a weekly event hosted by Jill at Breaking the Spine, that spotlights upcoming releases that we're eagerly anticipating. This week's can't-wait-to-read selection is..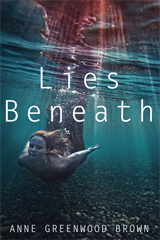 Title: Lies Beneath
  Author: Anne Greenwood Brown
  Publisher: Delacorte Press
  Published: June 12, 2012
  Pages: ??
  Goodreads
Calder White lives in the cold, clear waters of Lake Superior, the only brother in a family of murderous mermaids. To survive, Calder and his sisters prey on humans, killing them to absorb their energy.

But this summer the underwater clan targets Jason Hancock out of pure revenge. They blame Hancock for their mother's death and have been waiting a long time for him to return to his family's homestead on the lake. Hancock has a fear of water, so to lure him in, Calder sets out to seduce Hancock's daughter, Lily. Easy enough—especially as Calder has lots of practice using his irresistible good looks and charm on unsuspecting girls.

Only this time Calder screws everything up: he falls for Lily—just as Lily starts to suspect that there's more to the monsters-in-the-lake legends than she ever imagined. And just as his sisters are losing patience with him.
That cover is just so pretty! I'm a sucker for that color scheme. I wish it had a prettier font, though, but I kinda like how it's just simple. This one is about mermaids!! That in itself is why I want to read this, but it also sounds so mysterious and unique to the mermaid genre (though any novel in the mermaid genre seems to be unique and different from each other).
What are you waiting on?