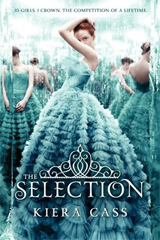 Title:
The Selection
Pages: 327
Author:
Kiera Cass
Source:
Luxury Reading
Publisher:
HarperTeen
Published: April 24, 2012
Series:
The Selection #1
Purchase:
Amazon
merica Singer is content with her life. Although her boyfriend, Aspen, is in a lower caste, to America, he's perfect. So when he urges her to join The Selection, an opportunity for one of thirty-five girls to become the wife of Prince Maxon, she is surprised. She's even more surprised when she's picked.

Wanting to be with Aspen, but needing the checks that The Selection provides her family with more, America sets off to the palace, heart closed off from the snobby Prince.

But when America meets Maxon, she realizes he's not who she thought he was. He's kind and sweet and she realizes that marrying Aspen might not be the best choice she has – and wants.

Plagued by these new found feelings, America has a big decision to make. Will it be Aspen or Prince Maxon?
After hearing about The Selection being compared to The Bachelor, I immediately wanted to read it. Being an unashamed fan of The Bachelor and all the juicy drama it provides, I knew I couldn't go wrong with The Selection. And it didn't disappoint.
To read the rest of my review, please go to Luxury Reading!
Pass or Read?
If you love the Bachelor, definitely give this one a read!
Cover thoughts:
The cover is so pretty. Of course it's just another pretty girl in a pretty dress, but with the other girls around her in the same dress, it is a bit more unique and reminds me of a forest in the winter. So pretty.