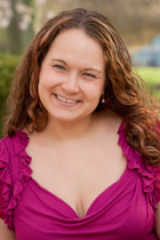 Today I am interviewing Jessica Spotswood, author of
Born Wicked
.
Here's my
review of Born Wicked
.
Find Jessica Spotswood on:
Website
|
Twitter
|
Goodreads
What was your inspiration behind writing about witches? What about your inspiration for the time period?
Well, I wanted to write about strong, independent, clever girls in a society that doesn't respect or value them. Making them witches in a world where only women can use magic gave the men a reason to fear them. As for the alternate 1890s world I built, I love the idea of writing letters by candlelight and having teas and wearing incredible dresses. It seems so lush and sexy, though I'm sure it was less so in reality. Things were changing rapidly in terms of industry and technology and growing freedoms, but that era was still awfully repressive for women. I shifted things to make it even more so in Cate's society. I suppose I wanted to play with that contradiction – the sensuousness of the high society dress and rituals with the rigid social expectations for women.
Would you ever consider writing in another genre, or do you think you'll stick to historical and/or paranormal romance?
I've tried to write a few straight contemporary YAs and I never got more than fifty pages, so I suspect I will stick with paranormal or fantasy elements. Who knows, though? I'm not ruling anything out. Some of my favorite books are contemporary (like LOLA AND THE BOY NEXT DOOR, IF I STAY, THE SKY IS EVERYWHERE, and THE DISREPUTABLE HISTORY OF FRANKIE LANDAU-BANKS).
If you can incite one emotion in readers as they read Born Wicked, what would that emotion be?
Swooning? I love writing the kissing scenes!
What is your strategy on dealing with negative reviews? Do you ignore them, or try to use them as constructive criticism?
A little of both? I've read enough reviews now that I have a sense of what people love about the book, what works, and what perhaps could have used some improvement. The really harsh reviews still sting a little, but I know now that they are outliers, so I can sort of shrug them off.
Can you tell me a little bit about the challenges on getting Born Wicked published? Have you ever tried getting another novel published, or is Born Wicked your first?
This book had a very quick path to publication – it took me about a year to write and revise it, and then it sold in a week. But it wasn't my first manuscript – that was called INHERITING GAROLASS. After two years of writing and revising, it got me an agent, but it was shelved after nine months on submission, which was a little soul-crushing at the time!
How did you come to realize that you wanted to write? Is writing your only job?
I've been writing since I was a wee Jess. I wrote three books in high school, but then I fell in love with theatre and went to grad school for that. By the end of grad school, I was working as a dramaturg, helping playwrights develop their new scripts, and I was miserable. I really missed writing. That's when I started working on INHERITING GAROLASS – about five years ago. I'm really lucky in that I do write full-time since last summer.
How do you go about writing a new book/sequel? Do you just start writing? Take a million notes?
My editor makes me outline! With the sequel, we spent several weeks brainstorming, emailing and talking on the phone almost every day until we had a solid outline. With a new book, though, the first thing that tends to come to me is a character and a few lines in her voice. With Cate, it was the first two lines of BORN WICKED: Our mother was a witch too, but she hid it better. I miss her.
Is there anything else you'd like to add?
I love tea! My favorite is Earl Grey in the afternoon/evening and green ginger late at night. Thank you for having me! This was fun!
I want to thank Jessica for taking the time to answer my questions!

Buy Born Wicked on Amazon!
Everybody knows Cate Cahill and her sisters are eccentric. Too pretty, too reclusive, and far too educated for their own good. But the truth is even worse: they're witches. And if their secret is discovered by the priests of the Brotherhood, it would mean an asylum, a prison ship—or an early grave.

Before her mother died, Cate promised to protect her sisters. But with only six months left to choose between marriage and the Sisterhood, she might not be able to keep her word... especially after she finds her mother's diary, uncovering a secret that could spell her family's destruction. Desperate to find alternatives to their fate, Cate starts scouring banned books and questioning rebellious new friends, all while juggling tea parties, shocking marriage proposals, and a forbidden romance with the completely unsuitable Finn Belastra.

If what her mother wrote is true, the Cahill girls aren't safe. Not from the Brotherhood, the Sisterhood—not even from each other.