Title:
Sacred
Author:
Elana K. Arnold
Published: November 13, 2012
Publisher:
Random House Children's Books
Growing up on Catalina Island, off the California coast, Scarlett Wenderoth has led a fairly isolated life. After her brother dies, her isolation deepens as she withdraws into herself, shutting out her friends and boyfriend. Her parents, shattered by their own sorrow, fail to notice Scarlett's pain and sudden alarming thinness. Scarlett finds pleasure only on her horse, escaping to the heart of the island on long, solitary rides. One day, as she races around a bend, Scarlett is startled by a boy who raises his hand in warning and says one word: "Stop."

The boy—intense, beautiful—is Will Cohen, a newcomer to the island. For reasons he can't or won't explain, he's drawn to Scarlett and feels compelled to keep her safe. To keep her from wasting away. His meddling irritates Scarlett, though she can't deny her attraction to him. As their relationship blossoms into love, Scarlett's body slowly awakens at Will's touch. But just when her grief begins to ebb, she makes a startling discovery about Will, a discovery he's been grappling with himself. A discovery that threatens to force them apart. And if it does, Scarlett fears she will unravel all over again.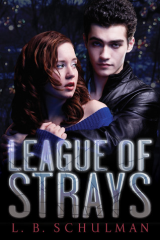 Published: October 1, 2012
When Charlotte Brody, a lonely 17-year-old student at a new school, receives an invitation to join The League of Strays, she's intrigued by the group's promise of "instant friendship." The League does provide companionship--and even a love interest--but Charlotte grows increasingly uncomfortable with its sinister mission to seek revenge against the bullies of Kennedy High. When escalating acts of vengeance threaten to hurl her down a path of remorse, Charlotte must choose between her new friends and the direction of a future she's never fully considered.
What do you think of these covers? Which is your favorite? Mine is Sacred's cover, because it seems so unique and once again, we have a cover with a "hot couple" on it. I'm getting kind of tired of these covers :P.

Will you be reading these?