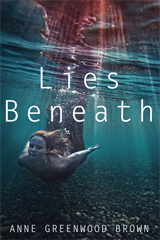 Title:
Lies Beneath
Pages: 303
Author:
Anne Greenwood Brown
Source:
Netgalley
Publisher:
Delacorte Books for Young Readers
Published: June 12, 2012
Series:
Lies Beneath #1
Purchase:
Amazon
Calder White lives in the cold, clear waters of Lake Superior, the only brother in a family of murderous mermaids. To survive, Calder and his sisters prey on humans, killing them to absorb their energy. But this summer the underwater clan targets Jason Hancock out of pure revenge. They blame Hancock for their mother's death and have been waiting a long time for him to return to his family's homestead on the lake.

Hancock has a fear of water, so to lure him in, Calder sets out to seduce Hancock's daughter, Lily. Easy enough - especially as Calder has lots of practice using his irresistible good looks and charm on unsuspecting girls. Only this time Calder screws everything up: he falls for Lily—just as Lily starts to suspect that there's more to the monsters-in-the-lake legends than she ever imagined. And just as his sisters are losing patience with him.
Lies Beneath
stood out to me immediately when I read the synopsis. The mermaid genre is a neglected paranormal creature in young adult literature, so any mermaid book I come across, I snap it up. And
Lies Beneath
did not disappoint.
Calder's quick and sarcastic wit provides for an entertaining male point of view, and I'm usually not a fan of male points of view in young adult novels. I just cannot connect with them and find myself getting bored of the book. Calder, however, was a different story. He kept me interested and biting my nails, hoping everything would work out for him.
His sisters all had their own unique personalities, too, and I loved the tension between them all.
The romance was fantastic, though I would have liked a bit more of it. The romance/kissing scenes were fantastically written, though, which made up for the fact that there weren't as many as I wanted.
I loved the idea that mermaids are monsters and that they need positive human emotions to stay alive. That's what I love about mermaid novels, each one seems so incredibly unique from the last one. Unlike other paranormal creature (vampire, werewolf, witches) novels, which all seem like copies of one another.
While the plot wasn't entirely surprising, I enjoyed it immensely and it kept me hooked from page one, all the way until the end. A slight negative, though, is that I was expecting a bit darker of a novel. Although Lies Beneath isn't exactly rainbows and lollipops, it isn't all blood and blackness either.
Overall, I would highly recommend
Lies Beneath
to mermaid and paranormal romance fans. This book is a must read if you like either genre.
Pass or Read?
Read if you love the mermaid or paranormal romance genres!
Cover thoughts:
This cover is awesome. There's really no words to describe how incredibly awesome it is! And it's soo gorgeous, too!