Title:
The Academy
Pages: 264
Author:
T.P. Boje
Source: Author
Publisher:
CreateSpace
Published: Oct 10, 2011
Series: Afterlife #1 Purchase:
Amazon
Rating: 4 out of 5
Have you ever wondered where you go when you die? Meghan is 16 when it happens to her. She wakes up on a flying steamboat on her way to a school run by Angels in a white marble castle. On the boat she meets Mick who has been dead for more than a hundred years but still looks like he is a teenager. He helps her through the difficult beginning at the new school in a new world filled with heavenly magic.

One day some of Meghan's roommates find a mirror in the cellar of the school and they persuade her to go through it with them - well knowing it is strictly against the rules of the school. Meghan ends up back on earth where she meets Jason. But Jason is in danger and Meghan knows something important.

Soon she is forced to choose between the two worlds. The one she belongs to now, and the one she left.
The Academy
had a premise that jumped out at me, one I had not heard of before, which is a great thing with so many similar plots out there.
The characters of
The Academy
could have been developed a bit more. I didn't feel like I knew the characters as well as some other novels and I wished that their appearances and personalities were described more. However, I'm hoping that book two will shed more light on them.
I also would like to have known how Meghan died and more about her life as a human. It seemed like everyone else had their stories, yet Meghan's was a mystery. Luckily, there were some clues and it seems like that's something that's going to be revealed as the series goes on.
The plot was incredibly unique and I enjoyed learning about the Afterlife world. T.P. Boje did a wonderful job carving out the beginning of the world, as well as the lore that came with it. The plot was pretty straight-forward, but there were a couple twists I did not expect. Also, some of the themes that were presented in the plot surprised me, as they were a lot darker than I expected when talking about some of the students' deaths, but welcome nonetheless. I felt this added a lot of reality to the characters, instead of everyone dying a natural, peaceful death.
The writing wasn't the best for my personal taste. The dialogue just seemed to be a bit old-fashioned. At times it was awkward and almost forced. This is another thing I see getting better with time, though, and something I grew pretty used to. Despite some of the writing, I actually found myself laughing out loud at the more humorous moments.
Overall, I really enjoyed The Academy and tried to go in with no expectations, because I had never heard of this book, therefore I hadn't heard any positive or negative things about it. I wasn't disappointed and will definitely be checking out book two. I recommend this to fans of the paranormal genre and ghosts/spirits.
Cover thoughts:
I like this cover, and how the hands are trying to touch. This is a major problem for new students at the Academy, to grab and hold onto solid objects. This is something they learn, though, and I think it greatly symbolizes the story.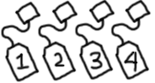 I give The Academy a 4 out of 5.