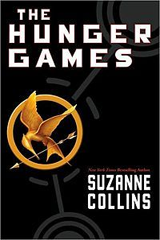 Title:
The Hunger Games
Pages: 374
Author:
Suzanne Collins
Source: Own
Publisher:
Scholastic Inc
Published: July 6, 2010
Series:
The Hunger Games #1
Purchase:
Amazon
In the ruins of a place once known as North America lies the nation of Panem, a shining Capitol surrounded by twelve outlying districts. The Capitol is harsh and cruel and keeps the districts in line by forcing them all to send one boy and one girl between the ages of twelve and eighteen to participate in the annual Hunger Games, a fight to the death on live TV.

Sixteen-year-old Katniss Everdeen regards it as a death sentence when she steps forward to take her sister's place in the Games. But Katniss has been close to dead before--and survival, for her, is second nature. Without really meaning to, she becomes a contender. But if she is to win, she will have to start making choices that weigh survival against humanity and life against love.
I went out on a whim with buying this one, buying solely because everyone was raving about it and I wanted to see what all the fuss was about. I'm really glad I did and it sparked a newfound obsession.
The characters in
The Hunger Games
were just phenomenal. They were by far the best characters I've ever read in a novel.
Katniss, oh Katniss stole my heart. She was so tough because she needed to be, not because she wanted to be. She took sacrifices no one would dream of taking in the world she lives in. I admire and respect her character so much, it feels like she's a real person. She is my favorite female heroine of all time.
Now I'm probably the only one pretty much that is Team Gale. I don't know what it is, but he just seemed more manly and sexy than Peeta. You could tell how much each of them cared about Katniss and it was one of the best written love triangles and two of the best written romances I've ever read. Despite the hard times they were living in,
Suzanne Collins
managed to give me shivers with her ability at combining romance and realism.
The plot was again, one of the best I've ever read. It was so emotionally riveting and well written. I am not ashamed to say that
The Hunger Games
beat me up until I was literally bawling my eyes out and just when I thought I was safe, it kicked me while I was down and made me bawl more. It brought out so many emotions and made me love it.
Overall, you. Have. To. Read. This. Book. Seriously, if you haven't read it already you're missing out. I would highly, highly recommend this to anyone that loves dystopian and even if the premise sounds just a little bit good to you, pick this up! I doubt you'll regret it!
Cover thoughts:
It doesn't do much for me in terms of pretty, but I absolutely love how it corresponds with the story!