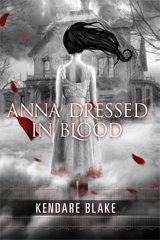 Title:
Anna Dressed in Blood
Pages: 316
Author:
Kendare Blake
Source: Own
Publisher:
Tor Teen
Published: Aug 30, 2011
Series:
Anna #1
Purchase:
Amazon
Cas Lowood has inherited an unusual vocation: He kills the dead.

So did his father before him, until he was gruesomely murdered by a ghost he sought to kill. Now, armed with his father's mysterious and deadly athame, Cas travels the country with his kitchen-witch mother and their spirit-sniffing cat. Together they follow legends and local lore, trying to keep up with the murderous dead—keeping pesky things like the future and friends at bay.

When they arrive in a new town in search of a ghost the locals call Anna Dressed in Blood, Cas doesn't expect anything outside of the ordinary: track, hunt, kill. What he finds instead is a girl entangled in curses and rage, a ghost like he's never faced before. She still wears the dress she wore on the day of her brutal murder in 1958: once white, now stained red and dripping with blood. Since her death, Anna has killed any and every person who has dared to step into the deserted Victorian she used to call home.

But she, for whatever reason, spares Cas's life.
Anna Dressed in Blood
reminded me so much of Supernatural when I read the synopsis that I had to get my hands on it!
I was a bit reluctant to read a male perspective, as I haven't read many and those I have read were hard to relate to. I was pleasantly surprised, however, that Cas was not like other male perspectives. I really liked Cas' attitude towards the ghosts and towards the towns he moves to. He wants to get in and get out without making much of a splash, so he doesn't have to deal with loose ends like girlfriends. This made him act snarky and a bit cold, but my favorite characters are always masters of these two personality quirks.
The writing was pretty simple and enjoyable. Occasionally the dialogue confused me because of vagueness, which was never explained, but this was easy to ignore as it didn't seem any of it was important to the story.
The plot was excellent and gory enough to meet my creepy desires. It's not my fault when I picture ghosts murdering people that enter their house because they were murdered brutally, I picture a ton of gore! And
Kendare Blake
hands you the gore on a silver platter and announces it as the first course out of a fifty course meal.
Overall, I highly enjoyed
Anna Dressed in Blood
. There was a bit of romance to satisfy romance-buffs, a bit of gore for horror-buffs, and some magic and voodoo and of course scary ghost action for the paranormal-buffs. I recommend it for anyone looking for a creepy story to stay up late reading into the wee hours of the night.
Cover thoughts:
I absolutely love it! It's so very pretty and I love how everything is black and white except for a bit of red. I also love the fence detail around Kendare Blake's name.