Waiting on Wednesday is a weekly event hosted by Jill at
Breaking the Spine
, that spotlights upcoming releases that we're eagerly anticipating. This week's can't-wait-to-read selection is..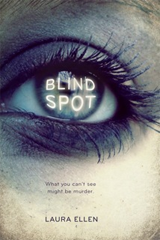 Title:
Blind Spot
Author:
Laura Ellen
Publisher:
Harcourt Children's Books
Published:
October 23, 2012
Pages:
356
Goodreads
There's none so blind as they that won't see.

Seventeen-year-old Tricia Farni's body floated to the surface of Alaska's Birch River six months after the night she disappeared.

The night Roz Hart had a fight with her.

The night Roz can't remember.

Roz, who struggles with macular degeneration, is used to assembling fragments to make sense of the world around her. But this time it's her memory that needs piecing together—to clear her name . . . to find a murderer. This unflinchingly emotional novel is written in the powerful first-person voice of a legally blind teen who just wants to be like everyone else.

Debut novelist Laura Ellen's own experiences with macular degeneration add powerful authenticity to this suspenseful and emotional page-turner for teens.
This one just sounds amazing. I can't exactly explain why, but it just does :P. I guess I'm fascinated with stories about losing your memory "conveniently" when someone is murdered or something and the fact that she is also blind, makes it even more interesting. And of course the cover is gorgeous, if not kind of creepy!
What are you waiting on?