In My Mailbox is hosted by Kristi at The Story Siren and is a weekly meme to showcase what you got over the week by buying, receiving, borrowing, stealing from a friend etc.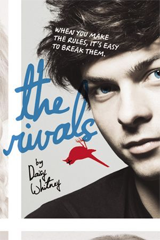 For Review:
The Mockingbirds
by Daisy Whitney
The Rivals
by Daisy Whitney
These new covers are brilliant! I love everything about them, especially how they flipflop the colors, focusing on red for the first one, then blue for the second. Thanks Little, Brown!
That's all I got this week or so, what did you get in your mailbox?