In My Mailbox is hosted by Kristi at The Story Siren and is a weekly meme to showcase what you got over the week by buying, receiving, borrowing, stealing from a friend etc.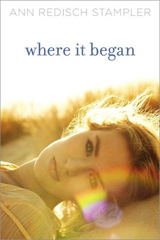 For Review:
Above
by Leah Bobet - This one looks amazing!! I was so happy when I received this one in the mail :).
Luxury Reading:
Where It Began
by Ann Redisch Stampler - Liking so far, just a few problems I have with it that keep me from loving it.
Grave Mercy
by R.L. LaFevers - This one is up next, I'm not quite sure about this one, but it sounded interesting enough to capture my attention!
That's all I got this week or so, what did you get in your mailbox?