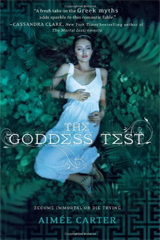 Title:
The Goddess Test
Pages: 293
Author:
Aimee Carter
Source: Library
Publisher:
Harlequin Teen
Published: April 19, 2011
Series:
The Goddess Test #1
Purchase:
Amazon
It's always been just Kate and her mom—and her mother is dying. Her last wish? To move back to her childhood home. So Kate's going to start at a new school with no friends, no other family and the fear her mother won't live past the fall.

Then she meets Henry. Dark. Tortured. And mesmerizing. He claims to be Hades, god of the Underworld—and if she accepts his bargain, he'll keep her mother alive while Kate tries to pass seven tests.

Kate is sure he's crazy—until she sees him bring a girl back from the dead. Now saving her mother seems crazily possible. If she succeeds, she'll become Henry's future bride, and a goddess.
I absolutely love novels based on mythology and I feel
The Goddess Test
is a great addition to the excellent genre.
Kate is a wonderful girl. She's smart and caring and she would do anything for her mother. I fell in love with her from the start. She was incredibly mature for her age, having grown this way by her mother's illness. She grew even more throughout the story, though, and I loved reading about her growth and how she dealt with her new fate.
I also fell in love with Henry. At first I didn't know what to make of him, because to be honest, if a guy asked me to live with him six months out of every year, I'd tell him to check himself into a mental institution. If on top of that he was saying he was Hades, God of the Underworld? I'd have personally taken him to the aforementioned mental institution.
Except this is young adult paranormal romance, so of course he's who he says he is and of course that makes him sexy. Tell me you wouldn't love being a Goddess and I'll rest my case! Despite being a God and sometimes being very distant and cold, however, he
is
really sexy. At times it was hard to believe how much he cared for Kate, but then he would do something that would prove it. I loved how their relationship also wasn't so instantaneous and was quite uniquely one-sided at first. I would have liked a bit less romance, though, in the middle of the book, as that was basically all the middle was made up of.
The writing was amazing, I love how
Aimee Carter
writes. She puts believability into the dialogue and emotions. She puts details into the scenes and the environments. She has a simple, but very effective way of writing that is sure to capture anyone's attention.
The plot was straight-forward most of the time. There were a few twists and turns that I didn't expect, but most of the time I guessed whatever was coming. This wasn't a bad thing, however, as long as I'm still entertained and I was most of the time.
Now, my only gripe with the story line was there wasn't enough to the tests. Henry told her she might recognize when a test was happening, but halfway through, she was told she had already faced a couple tests, which was news to me. At first, this greatly bothered me, because it's called
The Goddess Test
for a reason. However, the tests are explained later on and I greatly appreciated that
Carter
included an explanation of each.
Overall, I really liked
The Goddess Test
. I thought it was a perfect addition to the mythology genre and it satisfied my mythology sweet-tooth greatly. I would definitely recommend this to lovers of mythology and paranormal romance.
Cover thoughts:
I really love this cover, though it doesn't have much to do with the story. I'm a sucker for the pretty girl in a pretty dress cover fad, though :P