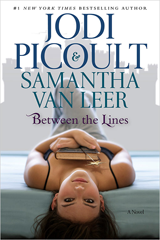 Title:
Between the Lines
Author:
Jodi Picoult
and Samantha van Leer
Published: June 26, 2012
Publisher:
Simon Pulse
Between the Lines is a clever, funny, romantic teen novel about a fairy tale prince who wants to break free of the constraints of his storybook existence, and the girl who falls in love with him.

In this story-within-a-story, Delilah, a loner who feels happiest with her head in a book, is obsessed with a fairy tale about Prince Oliver at her library. And then one day, Oliver actually speaks to her. It turns out that Oliver is more than a one-dimensional storybook prince and is in fact a restless teen who feels trapped by his literary existence.

Once Delilah and Oliver connect, she decides to help him break out of the book and they begin to fall head over heels for each other.
Go
here
for a larger, more detailed look at the cover.
I have not read any of Jodi Picoult's novels, but this one sounds amazing so I'll definitely be trying it. What do you think about Jodi's venture into YA? Do you think she'll be successful? What do you think of the cover? I like the cover, I just don't see a big YA vibe, other than the magic wand the girl has in her hand. It feels very "sophisticated," though, which I like.