In My Mailbox is hosted by Kristi at The Story Siren and is a weekly meme to showcase what you got over the week by buying, receiving, borrowing, stealing from a friend etc.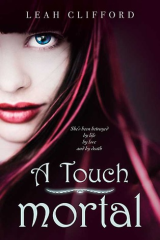 Luxury Reading:
For Darkness Shows the Stars
by Diana Peterfreund - This one kinda sounds a little bit like Cinder because Lunar/Luddite and of course Kai. If it's half as good as Cinder, I'm sure to love this one.
Won:
A Touch Mortal
by Leah Clifford - Thank you
Sara @ Just Another Story
! Excited to read this one.
That's all I got this week or so, what did you get in your mailbox?