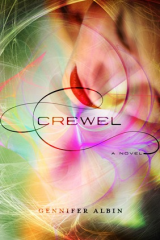 Title:
Crewel
Author:
Gennifer Albin
Published: October 16, 2012
Publisher:
Farrar, Straus and Giroux Books for Young Readers
Incapable. Awkward. Artless.

That's what the other girls whisper behind her back. But sixteen year-old Adelice Lewys has a secret: she wants to fail.

Gifted with the ability to weave time with matter, she's exactly what the Guild is looking for, and in the world of Arras, being chosen as a Spinster is everything a girl could want. It means privilege, eternal beauty, and being something other than a secretary. It also means the power to embroider the very fabric of life. But if controlling what people eat, where they live and how many children they have is the price of having it all, Adelice isn't interested.

Not that her feelings matter, because she slipped and wove a moment at testing, and they're coming for her—tonight.

Now she has one hour to eat her mom's overcooked pot roast. One hour to listen to her sister's academy gossip and laugh at her Dad's stupid jokes. One hour to pretend everything's okay. And one hour to escape.

Because once you become a Spinster, there's no turning back.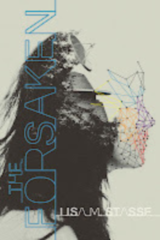 Published: July 10, 2012
A thought-provoking and exciting start to a riveting new dystopian trilogy.

As an obedient orphan of the U.N.A. (the super-country that was once Mexico, the U.S., and Canada), Alenna learned at an early age to blend in and be quiet—having your parents taken by the police will do that to a girl. But Alenna can't help but stand out when she fails a test that all sixteen-year-olds have to take: The test says she has a high capacity for brutal violence, and so she is sent to The Wheel, an island where all would-be criminals end up.

The life expectancy of prisoners on The Wheel is just two years, but with dirty, violent, and chaotic conditions, the time seems a lot longer as Alenna is forced to deal with civil wars for land ownership and machines that snatch kids out of their makeshift homes. Desperate, she and the other prisoners concoct a potentially fatal plan to flee the island. Survival may seem impossible, but Alenna is determined to achieve it anyway.
Title:
The Poison Princess
Author:
Kresley Cole
Published: October 2, 2012
Publisher:
Simon & Schuster Books For Young Readers
Poison Princess centers on 16-year-old Evangeline "Evie" Greene, a privileged teenager from Louisiana.

When an apocalyptic event decimates her hometown, killing everyone she loves, Evie realizes the hallucinations she'd been having for the past year were actually visions of the future — and they're still happening. Fighting for her life and desperate for answers, she must turn to her wrong-side-of-the-bayou classmate: Jack Deveaux.

As Jack and Evie race to find the source of her visions, they meet others who have gotten the same call. An ancient prophecy is being played out, and Evie is not the only one with special powers. A group of teens have been chosen to re-enact the ultimate battle between good and evil. But it's not always clear who is on which side…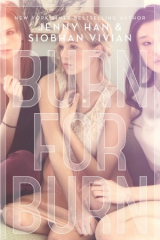 Published: September 18, 2012
The start of a brand-new young adult trilogy about three very different girls who overcome their differences and band together to seek revenge on those who have wronged them, uncovering a supernatural secret about what brought them together and why in the process. Each book will rotate back and forth between the perspectives of all three characters.
What do you think of these covers? Which is your favorite? I really like Crewel's cover. The colors are gorgeous and it looks very unique. The Poison Princess' is probably the least unique out of the three, as once again pretty couple + pretty dress. Come on cover designers, be more creative!! Also, The Forsaken's and Burn For Burn's covers looks awesome!!

Will you be reading these?