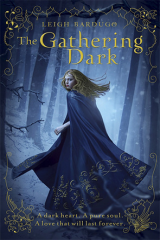 Title:
The Gathering Dark
Author:
Leigh Bardugo
Published: June 7, 2012
Publisher:
Indigo
Sweeping, glorious fantasy romance about an orphan who must save her kingdom from the seductive and terrifying Darkling. The most compelling romance since Twilight.

The Shadow Fold, a swathe of impenetrable darkness, crawling with monsters that feast on human flesh, is slowly destroying the once-great nation of Ravka.

Alina, a pale, lonely orphan, discovers a unique power that thrusts her into the lavish world of the kingdom's magical elite—the Grisha. Could she be the key to unraveling the dark fabric of the Shadow Fold and setting Ravka free?

The Darkling, a creature of seductive charm and terrifying power, leader of the Grisha. If Alina is to fulfill her destiny, she must discover how to unlock her gift and face up to her dangerous attraction to him.

But what of Mal, Alina's childhood best friend? As Alina contemplates her dazzling new future, why can't she ever quite forget him?

Glorious. Epic. Irresistible. Romance.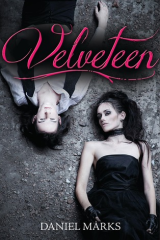 Published: October 9, 2012
Velveteen Monroe is dead. At 16, she was kidnapped and murdered by a madman named Bonesaw. But that's not the problem.

The problem is she landed in purgatory. And while it's not a fiery inferno, it's certainly no heaven. It's gray, ashen, and crumbling more and more by the day, and everyone has a job to do. Which doesn't leave Velveteen much time to do anything about what's really on her mind.

Bonesaw.

Velveteen aches to deliver the bloody punishment her killer deserves. And she's figured out just how to do it. She'll haunt him for the rest of his days. It'll be brutal... and awesome.

But crossing the divide between the living and the dead has devastating consequences. Velveteen's obsessive haunting cracks the foundations of purgatory and jeopardizes her very soul. A risk she's willing to take—except fate has just given her reason to stick around: an unreasonably hot and completely off-limits coworker.

Velveteen can't help herself when it comes to breaking rules... or getting revenge. And she just might be angry enough to take everyone down with her.
What do you think of these covers? Which is your favorite? I definitely like The Gathering Dark's cover better. At first I didn't, but then I had a close look at it and fell in love. It looks like a children's fairy tale book, which can be a good or bad thing.

Velveteen's just doesn't seem very unique. I mean there's a hot couple AND a girl in a pretty dress. Way to be different! (/sarcasm) Now what I do like are the colors and the font. I like how everything is grey, it seems to coincide with the story. And the pink of the font provides a nice pop of color to let you know it's not incredibly boring :P.

Will you be reading these?