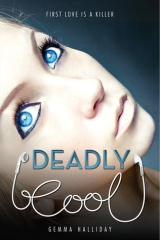 Title:
Deadly Cool
Pages: 303
Author:
Gemma Halliday
Source: Library
Publisher:
HarperTeen
Published: October 11, 2011
Series:
Deadly Cool #1
Purchase:
Amazon
Hartley Grace Featherstone is having a very bad day. First she finds out that her boyfriend is cheating on her with the president of the Herbert Hoover High School Chastity Club. Then he's pegged as the #1 suspect in a murder. And if that weren't enough, now he's depending on Hartley to clear his name.

But as much as Hartley wouldn't mind seeing him squirm, she knows he's innocent, and she's the only one who can help him. Along with her best friend, Sam, and the school's resident Bad Boy, Chase, Hartley starts investigating on her own. But as the dead bodies begin to pile up, the mystery deepens, the suspects multiply, and Hartley begins to fear that she may be the killer's next victim.
Deadly Cool
was a spectacular read and perfect for mystery junkies like me. It was light-hearted and chilling at the same time and is a must read for fans of the contemporary and mystery thriller genres.
Hartley is my kind of gal. She's so spunky and so sarcastic that you can't help but laugh at some of the stuff to come out of her mouth. I fell in love with her as a character and am excited to read about more adventures with her.
I also loved that she had a soft side, even if she only broke down once or twice. I mean, if my boyfriend cheated on me, he would be the one dead (maybe not literally dead, but dead to me anyway) and I certainly wouldn't be helping him out of a mess!
One of the first things that pops to mind when I think of the minor characters: they were actually present! Her mother and her best friend were actually present, which hardly happens in young adult novels anymore. And while her mom was quite.. eclectic, I'm so happy she was present and
worried
about her daughter.
The plot was very fast paced and very refreshing to have in a young adult murder mystery novel. I felt like I was given information and clues and decent intervals throughout the novel, instead of everything coming crashing down at the end. While it wasn't entirely a surprise to me, it was certainly enjoyable!
Overall, if you're in the market for a hilarious murder mystery, look no further because you've found it. I would highly recommend
Deadly Cool
to anyone, not just fans of the genre.
Pass or Read?
Definitely read, especially if you like snarky heroines and murder mysteries.
Cover thoughts:
I lovelovelove that "Cool" is made of iPod earbuds. It fits perfectly with the story. Otherwise, it's pretty but I don't really get what the girl's face has to do with the story. She looks like Hartley I guess?