Matched
by
Ally Condie
Source: Bought
My rating:
5 of 5 stars
Matched intrigued me when I first read about it here on Goodreads. I picked it up at the bookstore when it came out, remembering it out of all the other books I wanted to read. The premise reminds me a lot of the Uglies series by Scott Westerfeld, so of course, I had to read it. The book lived up to my expectations and more. It's a heroic story woven with threads of love, friendship, betrayal, and curiosity. What would you do if a seemingly perfect Society that was in charge of telling you who your future spouse was, who rarely made mistakes, made an error? What would you do if you'd already been Matched, yet you saw someone else's face, where your Match's should have been? These are just some of the trials that Cassia will have to face in the first book of the Matched series.
I love books that follow the same bones as the book Matched, and Ally Condie provided me with a fresh imaginative world where everything was decided for you and everything was based on data. No luck, just data and math and science. Ally Condie wrote the book beautifully with just enough twists and turns to keep you guessing and wanting more. Most of the characters leave you feeling like they are real, complete characters, not just ones in a book. One minute I was disliking Cassia, the next feeling for her and understanding why she does what she does. By the end of the book, I was rooting her on and with each turn of the page, hoping she'd get what she wanted and the Society would get what they deserved.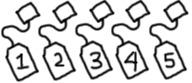 Matched gets a five out of five stars from me.
View all my reviews